Nail Services
Our Nail Room is equipped with 2 manicure stations and 3 pedicure stations.
We are not like spas that specialize only in nail services. While space is limited, we offer a tranquil environment in which you can relax and enjoy a personal experience with one of our very talented nail technicians.
We can accommodate individual appointments or groups up to 4. Larger parties may be booked after a consultation.
Please note that any issues with your nail services must be reported within 48 hours. We are happy to fix problems reported during this timeframe free of charge. We are happy to address problems reported after the 48 hour window, but there may be additional fees.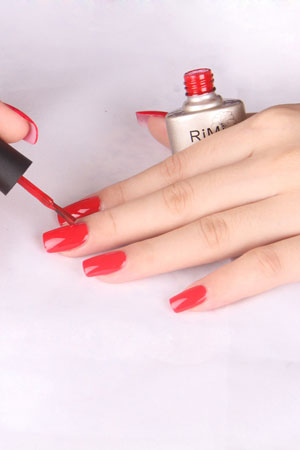 Signature Manicure $25
Includes classic manicure with exfoliation, hand and arm massage, and regular polish. **Regular polish typically does not last longer that 2-4 days without chipping.**

Gel Polish Manicure $30
Gel polish is designed to last longer than regular polish. It's gentle to the natural nail. The high shine of this polish typically lasts one to two weeks with no cracking, peeling or chipping. Everyone's nails are different, so your result may vary.

SNS Manicure $35
SNS nail system has no odor and doesn't require the use of a UV light and is a healthier alternative to acrylics. They are much thinner, light weight, and helps nails to grow out stronger and healthier. Free of Formaldehyde, Toluene and DBP. Typically lasts one to three weeks. Everyone's nails are different, so your result may vary.

Add a Paraffin Treatment for $10. Add French polish or nail art for $5.
We cannot guarantee how long each polish type will last on your nails. Issues reported after 48 hours from the initial appointment will be corrected for an additional fee.
Return to Top
Service Policy


Missed appointments or appointments canceled with less than 24 hours notice will incur a $25 cancelation or no show fee. Customers using gift cards may have this fee deducted from their gift card balance.
NOW Available!
You can book your massage online!
Signature, Deep Tissue, and Hot Stone Massages are now available for online booking.
Enjoy a 50, 80, or 100 minute session!
Packages, Couples Massages, and Wedding Services cannot be booked online. Please call (910) 575-4422 to schedule these services.

Company Policies:
The policies set forth by Coral Tree Salon and Day Spa represent our intent to maintain a professional work environment while providing our clients with the best customer service possible.

Please arrive ten minutes prior to your spa appointment to allow time to fill out our short health form. This also gives you time to use the restroom and unwind before your spa treatment.

Cancelation Policy:
We ask that you give us at least 24 hours notice if you need to cancel your appointment. After two same day cancelations or no shows, we reserve the right to request a nonrefundable deposit to book your next appointment.

Late Arrivals:
We strive to keep appointments on schedule. If you arrive late and the specialist is committed to another client, your appointment may have to be shortened to fit into the allotted time or rescheduled. If you are 15 minutes or more late for your appointment, we reserve the right to reschedule your appointment to another day and/or time.

Returned Checks
Any returned check will result in a $25.00 service fee.

Walk-Ins
We welcome walk-in clients. To avoid a possible wait time it's best to make an appointment, please call the salon at 910-575-4422 or use our "book now" link on this website to schedule an appointment.

Service Satisfaction
We strive to make sure our customers are satisfied with the service they receive. If there is a problem with the service, i.e. broken nail, hair that is too light or too dark, please notify us within 48 hours of your appointment. We will be happy to discuss options to resolve your issue. To read the full policy, please click on the Info tab in the menu at the top of the page.

Please note that refunds are not available on services. You are paying for the stylist's time, and time cannot be returned.